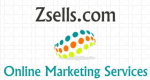 Did many email promos and some web design for the Wisconsin Cheeseman. Another company has taken over the Cheeseman and samples are no longer available.


CUSTOM CONTENT THAT WORKS!


Here are links to some examples of custom website content that I developed. The examples given represent 100% of my work. I created the concept, graphics and copy. I also promoted the content via email and social media outlets.

The Chuck and Eddie's Face Book Page has become extremely popular without only a couple of months. When I began working on the page, there were just under 200 "likes". This has grown to well over 3,000 in a matter of months.

Online Reputation Repairation. Chuck and Eddies had an online reputation problem. Their ebay business generated a large amount of negative feedback. Now they enjoy the distinction of being a "Platinum Power Seller" with thousands of glowing review from customers.

Chuck and Eddie's Parts is a blog I started a couple of months back. We're finding the RSS feed on several other websites on the Internet which helps spread the Chuck and Eddie's brand. I try to write at least one new entry to the blog each week.

Towing Instructions OnlineOne of AW Direct's most popular features. I partnered with a company that specializes in the development of software for the towing and trucking industries to present this exceptionally popular feature to visitors of the AW Direct website. Towers access this feature to confirm the proper towing techniques for various types of vehicles. This works to create sales since it brings the potential customer back to the AW Direct website time and time again where he or she is exposed to products.

Tricked-Out Trucks By far THE most popular feature of the AW Direct website. Visitors to the site are encouraged to send in photos of their equipment to be displayed on the site. We would sometimes use submitted photos for promotional purposes and even as covers for the print catalog. This feature receives lots of FREE online publicity through social media networks. It's always good to get the customer to promote your site.

WTRAA Charity Effort Playing an active role in the customer's interests is very important to customer retention and support. In this instance, I learned that the WOMEN OF THE TOWING AND RECOVERY ASSOCIATION OF AMERICA was having a difficult time in raising funds for their scholarship program. I convinced the Grainger Executives that this was an excellent opportunity to increase AW Direct's visibility within the market. This program has proven extremely successful and continues to be offered today.

COMPLETE WEBSITES


A couple of examples of complete websites that I built and currently maintain:

Carousels.com Has gained the distinction of being the number one visited carousel resource website on the Internet with over 17,000 unique visitors per week. This website has been online since 1996.

Rebuilding Together An informational site I did for Charity. This site works well in attracting volunteers for a worth-while cause.

Carrousel Music This successful Ecommerce site sells hundreds of recordings each year.

Magical Carousel Shoppe The online division of this New Jersey retailer.

This is only a small sampling of my work. I'd be happy to share more with you!



Bruce Zubee
573 Atkins St
Middletown, CT 06457
TEL: (860) 344-9307
Email: Bruce@Zsells.com